Meet
Anita Heinemann
Global Smart Manufacturing Leader – Starches, Sweeteners & Texturizers
In college, Anita thought she'd follow a scholarly path and go on to graduate school, achieving her master's and then her Ph.D. But she decided to go create her own journey. It all started with an internship at Cargill. From her very first day, she worked on real, meaningful projects and found opportunities to make a difference, learn and grow. That's proven true throughout her career at Cargill. From starting at the Eddyville plant working in acidulants, to leading manufacturing technology in North and South America, she's followed her curiosity, dedication and drive toward a leadership position at the company. And she's had great support along the way from mentors and champions who saw her talent and potential and told her to take chances – and supported her when she took on the challenge of new positions. That support is something Anita wants to pass on to her team. Because for Anita, Cargill is family. At the end of the day, she wants to give the people she manages the same strength she's found during her career here, whether that means being a champion for safety or providing a clear path for the growth of those she leads.
What's one of your favorite aspects of working at Cargill?

I'm always learning and there's always something new. Everyone at Cargill comes together as a team and I feel that everyone is very collaborative and wants to do what's best for the company to drive forward and help others.

What's one thing you'd say is unique about operations careers at Cargill?

You can have a career here that you couldn't have at a smaller company. In order to get a wide range of opportunities, you might have to switch companies. At Cargill, you can continue to grow your career in different facets without having to leave the company.

How have you felt supported in your career journey?

Just one example: When I was thinking of making a career move, a senior Operations leader called me and told me, "I understand you want to stay in Minneapolis. It's going to take some time, but we're going to find you something." It was huge hearing that from a Global Operations Director, that they were thinking about what I wanted. He connected me with an opportunity.

What would you say to a new hire that's a woman?

It's important to find the role models and mentors at Cargill. Build relationships. And to help with visibility, there's the Cargill Women's Network as well as other networks within businesses. These groups help identify what barriers are in place and drive conversations about these issues.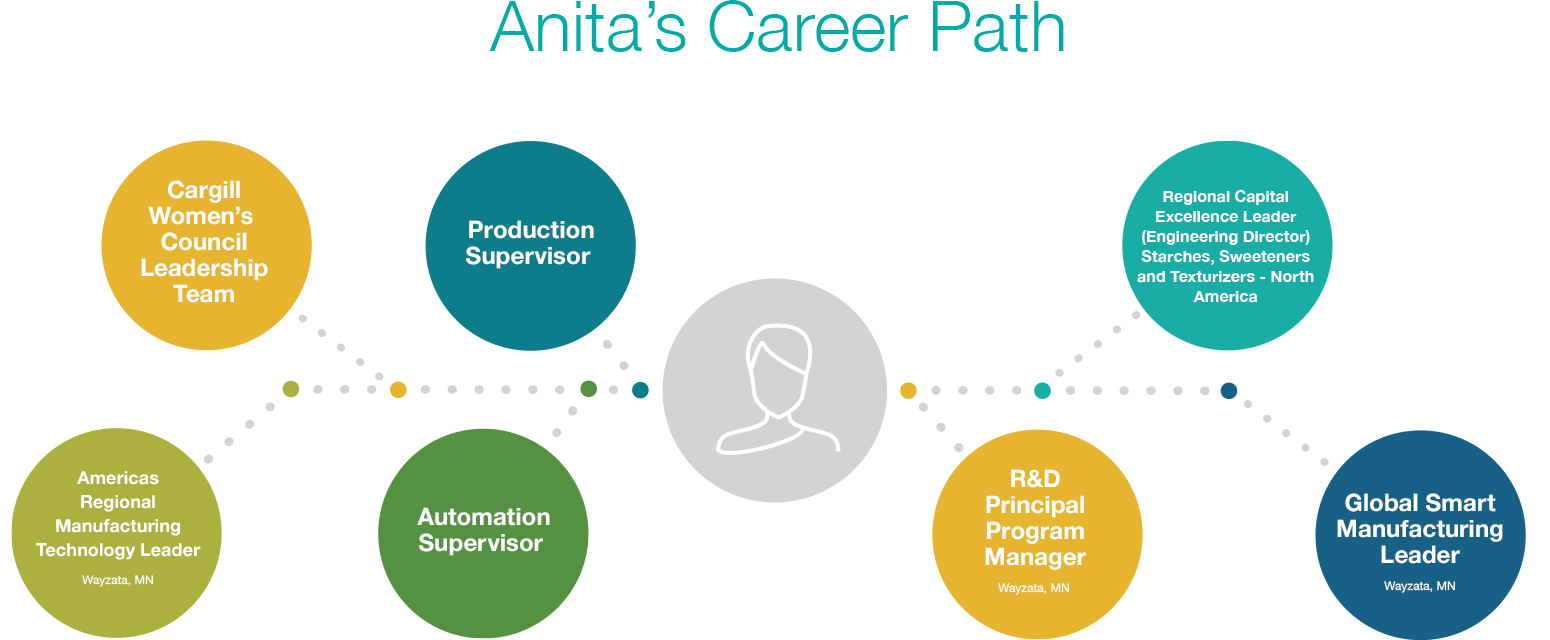 Find a company that supports you. Forge your own career path.
At Cargill, we know that our Operations team wins together. And that every diverse perspective and unique ability gives us strength. That's why we recognize our employees' achievements and work to give them the type of careers that fit what they want, with flexibility, inclusion and support for growth.
Cargill helps its employees to succeed. Learn How