Business
Discover who drives us.
Putting people first and placing a high importance on diversity and diverse perspectives are guiding principles of who we are. Across all aspects of our dynamic business model, Cargill is always looking for new professionals with integrity and a sense of innovation – those dedicated to nourishing the world in a safe, responsible and sustainable way. Cargill is looking for people like you.
Corporate Strategy and Development
Strategy meets opportunity.
In Corporate Strategy and Development (CSD), you will work on cross-functional projects and transactions to help Cargill resolve some of the biggest issues facing the world. You will team up with internal and external partners to apply world-class strategies that make a meaningful impact within Cargill and the agricultural industry. Opportunities in this category include Corporate Strategy, Cargill's Internal Consulting Group, Corporate Development, and Cargill's internal Mergers and Acquisitions group. Roles range from intern to associate and are open to current MBA students and graduates. We're focused on developing the talent that will solve the issues of tomorrow, and we can help you grow the skills needed to take you wherever you want to go.
Preferred Majors: Graduate Degree – MBA or a related degree.
Corporate Strategy and Development Career Path
Put your knowledge to work.

Merchandising and Trading
Be where the action is.
As an intern or associate in Merchandising and Trading, you will work for one of the world's largest and most respected commodity trading firms. This experience is invaluable and will put you on the path to an exciting and rewarding career. From trading agricultural commodities such as corn, wheat, soybeans, animal feed and biodiesel, to participating in broader strategy initiatives such as business development and project management, you will establish relationships with internal and external customers while learning to thrive in a dynamic and energizing environment. The ideal candidates for internships or full-time positions manage risk, challenge the status quo and are driven to succeed.
Preferred Majors: Open to all majors including Business, Economics, Finance or Agricultural Economics.
Merchandising and Trading Career Path
Decide where you want to go.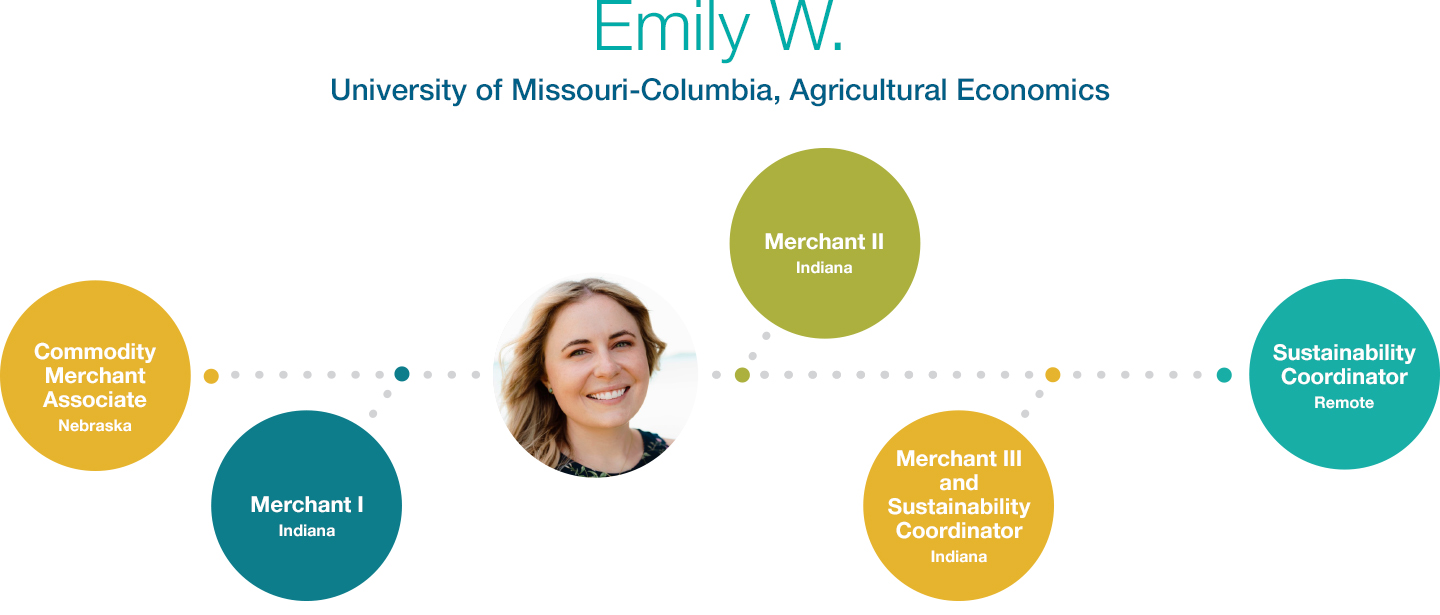 Finance
Opportunities you can count on.
Accounting and Finance interns and associates make vital contributions to every aspect of what we do at Cargill. You will have the opportunity to make an impact through cross-functional collaboration and by applying your unique perspective to real issues and challenges across global teams. Our early career programs are designed to help build important fundamental skills across various accounting, finance and risk management teams. Throughout your internship program or robust three-year Finance Associate Rotational program, early career professionals in Accounting, Finance and Risk Management are immersed in the kind of comprehensive learning environment that will jump-start their career at Cargill.
Preferred Majors: Accounting (most preferred), Finance, Statistics, Economics, Mathematics or a related degree.
Finance Career Path
Not all careers follow a set formula.
Management
Tomorrow's leaders start here.
Management interns and full-time associates apply a diverse set of skills and knowledge across responsibilities ranging from business areas such as Risk Management to Pricing or Supply Chain. You will develop relationships with both clients and colleagues while learning to understand the complex world of formulation, bulk logistics, trading, pricing and end-to-end supply chain needs, while gaining in-depth knowledge of profit and loss and almost everything in between.
Risk Management & Sourcing (RMS), Pricing and Supply Chain make up our Management Associate program paths that focus on developing you and your career. These career paths can lead to you becoming a key contributor or taking on a supervisory position within Cargill's North American Animal Nutrition. We also provide the flexibility to move into Sales, Production Management or Special Project assignments based on your interests and personal skill development plan. We are always looking for people driven to grow, support, think and produce. Leaders like you are our future. Let us take you there.
Preferred Majors: Agri-business, Finance, Business Administration, Supply Chain, Ag-economics, General Business.
Management Career Path
Not all careers follow a set formula.

Supply Chain
Keep the chain moving.
Supply Chain interns and rotational associates get the opportunity to learn our diverse scope of business to help optimize our coordinated supply chain. Supply Chain internships are fast-paced and exciting 12-week, project-based roles in the summer. Supply Chain Rotational Programs last two years and consist of four 6-month rotations across a variety of roles in different businesses and functions. The rotational program provides structured development through training and mentorship, with the goal of developing strong internal talent for our Business Operations and Supply Chain organizations.
With a role in Supply Chain, you can orchestrate demand planning for a business, implement strategic sourcing and procurement initiatives, or partner on coordinated business planning. Your role as an intern or rotational associate will prioritize your development and provide the support you need to reach your full potential.
Preferred Majors: Supply Chain, Procurement, Engineering, Finance, Economics, MIS, Logistics or another related business discipline.
Supply Chain Career Path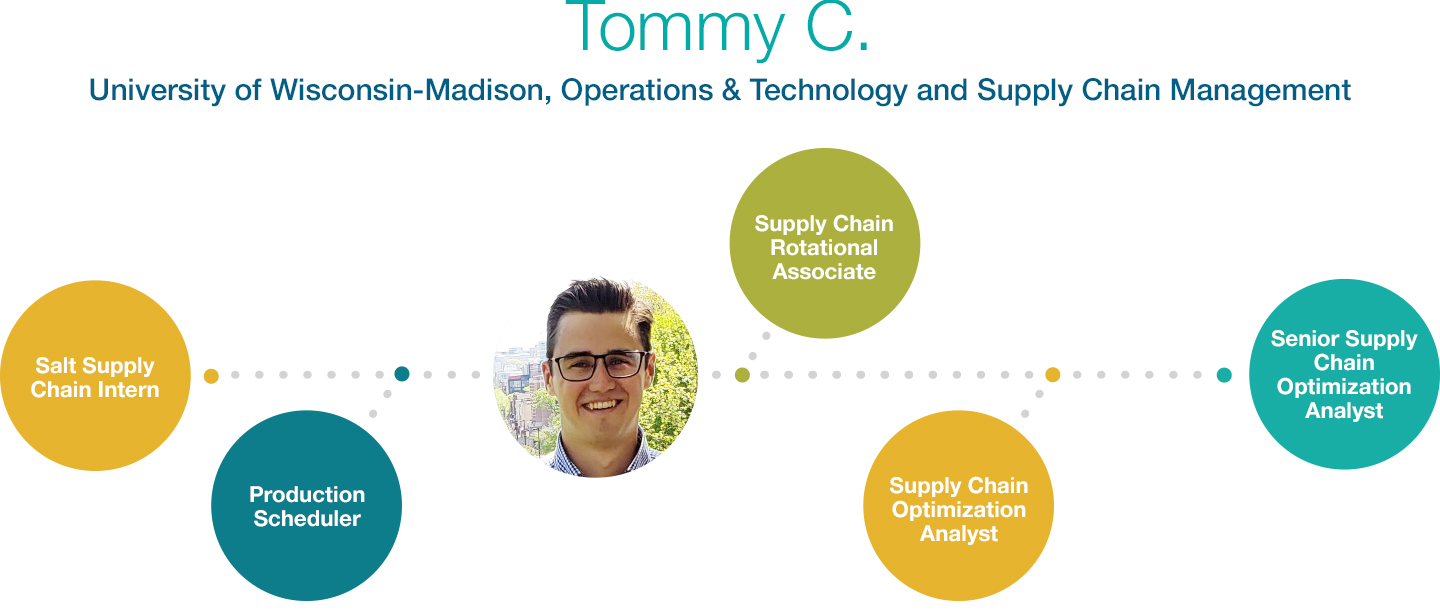 Marketing
Think beyond the box.
Developing marketing campaigns, conducting competitor benchmarking and strategically producing digital marketing assets are some of the ways Marketing provides essential support to our portfolio of businesses. Through a Marketing internship, you will be immersed in one of our businesses or product lines and help activate marketing strategies that directly impact business results.
Preferred Majors: Marketing, Business, Agricultural Communications, Journalism or a related degree.