Cheng Fan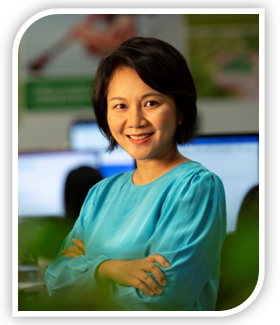 Role: Iron Ore International Seaborne Lead
Department: Cargill Metals / Trading and Risk
Country: Singapore
Tenure: 13 years
Tell us about your role and the value you bring to Trading and Risk Management.
My 5-year-old daughter asked me the same question just last month! In a 5-year-old language, my role is to buy and sell iron ore from one country to another. Iron ore will be turned into steel, and steel will be used to make toys, houses, bridges and cars.
Steel is the most used metal in the world and is evident in every aspect of our lives. We help the steel mills and ultimately consumers like you and me to secure iron ore as a raw material in the most cost effective, flexible, reliable and sustainable way. We also help the mining companies and their communities to maximize the value of their products. Responsible sourcing is critical as we look for suppliers that work safely and contribute positively to their local communities. While we bring value to our clients, we also create value to Cargill's stakeholders. All these are done through our global trading network, risk management expertise as well as our deep knowledge about steel making and iron ore market.
What is it like to work with one of the world's largest commodity trading firms?
We have the best from the old and new worlds!
We have a highly sophisticated and advanced risk management system to calibrate the risks we take every day. We use data science and state of art technology to make the best-informed trading decisions. We heavily rely on the latest technical knowledge of iron ore and steel making to help us understand our customers and the market.
Despite all these modern tools and knowledge, commodity trading is still a "people business" today – just like 2000 years ago when silk, tea and silver were traded along the silk road: trust, reputation and relationships continue to play critical roles to a trader's success. At Cargill our word is our bond, and we work with our customers with a goal of being their partner of choice in the long run.
Strong risk management and customer focus are in the core of our DNA!
How would you describe the culture and what do you enjoy about working for Cargill?
Looking back at my 13 years with Cargill, I have always been given the runway to take risks in my career. Every risk I took turned out to be an experience that redefined my career, capability, ambition, and me as a person.
8 months after my return from maternity leave, a trading desk head position became available. Can I play both roles well as a new mother and a new trading desk head? The only way to find it out was to give it a try! I raised my hand, and I got the role. I went through the steep learning curves both on the trading floor and in my daughter's nursery room. In both places, I experienced laughter and tears, achievements and disappointments, but most importantly, tremendous personal growth.
In 2020, in the midst of the pandemic, I was tapped on the shoulder for another internal opportunity. After trading freight for 12 years, I made the transition to Cargill Metals to lead the international physical trading activities for iron ore. I jumped into this new market with barely any knowledge but lots of passion. What an amazing journey! With Cargill Metals' exciting vision and strategies, we have been expanding in ferrous market tremendously. At the same time the iron ore market has gone through extreme volatilities which created huge opportunities for trading activities. In the past 12 months I have gained new perspectives in trading, business acumen, leadership, innovation and so much more.
How is Cargill getting you ready to thrive in the future of commodity trading?
Cargill's extensive business portfolio means immense opportunities for individuals to experience and learn within the company. I started my career in freight trading, and even within the freight space I was encouraged to trade in different markets every 3-5 years. Experiencing different markets and dealing with diverse customer profiles accelerated my learning and career progress in the physical trading space. As the world gets increasingly interconnected, having a wide spectrum of trading and customer management experience allows me to gain a more holistic view and adapt to market changes quicker.
Cargill is leading the way for gender inclusion in commodity trading. How has it impacted you personally?
Inclusion and diversity are not just about gender and race – it's about allowing people to thrive by being themselves.
I joined Cargill Ocean Transportation 13 years ago. As a female, Asian and fresh out from university, my profile was different from most of my colleagues on the trading floor back then. But being different in the team became my edge as people were genuinely interested in my perspectives while we set out to grow the business in Asia. Thanks to Cargill's culture of encouraging respect, diversity and authenticity, I'm empowered to build confidence in myself and create value for the company.
I've not tried to build relationship with my colleagues by forcing my interests in football or rugby, rather I've built deep connections with the team and clients by being genuine and candid in our interactions. Being who I am gives me the space to focus on my work, take care of my mental wellbeing, and stay on top of the game in my best form.
Today, I am proud to say my background is not that unique anymore. We now have many brilliant female team members with diverse backgrounds on our trading floor, thriving in their authentic selves.
APAC Trading and Risk Roles