Cargill in Bulgaria
Since opening our first offices in Sofia in 2006, Cargill's connection with the community has continued to grow. With over 1,500 employees across two locations, we are now among the 60 largest companies in Bulgaria overall. With a focus on supporting EMEA and global roles, teams enjoy an international experience while supporting over 30 businesses in more than 25 countries and 18 different languages.
For these reasons and more, Cargill Business Services (CBS) in Sofia was chosen as the central hub for two teams – Global IT and Data. CBS Sofia is now delivering a new portfolio of capabilities and services supported by talented IT specialists from a variety of backgrounds, including social, mobile, analytics, cloud and internet. As a result of this progress, Cargill Bulgaria is now the most populated location in Cargill's EMEA operations.
Learn more about our history in Bulgaria here.
See why Capital named us one of their K100: The largest companies in Bulgaria 2022.
Life in Sofia
The largest city and capital of Bulgaria, Sofia is located at the foot of the Vitosha Mountain on the western side of the country in what is known as the Sofia Valley. With a recorded history dating back to 29 B.C., Sofia's past can be seen and felt everywhere you look. Full of great museums and theaters as well as many ancient churches representing several religions, Sofia is a beacon of culture and tolerance in Europe as evidenced by its nickname "the triangle of religious tolerance." Thanks to this rich history, a large population of more than one million people and beautiful mountain views in all directions, Sofia is a charming and ideal place to live and work.
Working at Cargill Tower Sofia
Sofia's Cargill Tower is in an easy-to-access location surrounded by culture and features many amenities. Located at the intersection of Bulgaria Blvd. and Kableshkov Blvd., there are plenty of ways to reach the office using bus or tram. Plus, being right next to Mall Bulgaria means employees have easy access to several restaurants, cafés, a gym, a cinema and shops.
Each newly designed and furnished floor boasts its own kitchen, several meeting rooms and private corners for conversation. The top floor even features a panorama terrace with a breathtaking view of the Vitosha and Stara Planina Mountains. There is also a relaxation room with comfortable couches, Jaggy and Playstation. It's a great place to work, unwind and enjoy some healthy competition with co-workers.
Our People are a Priority
Getting to live in a city like Sofia and do impactful work aren't the only benefits of joining Cargill's Bulgaria team. As we continue to build our presence, our investment in our employees and community has become a top priority. Currently, 70% of management roles and 25% of all roles are filled internally. Our comprehensive Diversity, Equity and Inclusion strategy ensures a supportive and tolerant workplace where all employees can develop to their full potential. We offer programs such as My Learning @Degreed and our Lean Six Sigma Green Belt Program to help our people reach the next stages of their career. We also provide great benefits to all employees.
Health Insurance – Get automatically enrolled when you start, with coverage beginning in the month following your start date.
Life & Accident Insurance – Get automatically enrolled and covered from your first working day.
Employee Assistance Program – Receive coverage for psychological support through our online platform.
Home Internet – You receive an allowance for home internet.
Flex workplace – At Cargill, we are committed to maintaining a flexible environment for work that can be done both in a workplace and at home.
Sports Program and Online Workouts – You and your family members can enroll in the MultiSport Benefit Program each month.
Service Award – All employees gain access to more benefits the longer they're with us and receive them automatically.
Vouchers - Food vouchers to use in a wide network of food merchants, as well as for electricity and home utilities.
Hard Work Deserves to be Recognized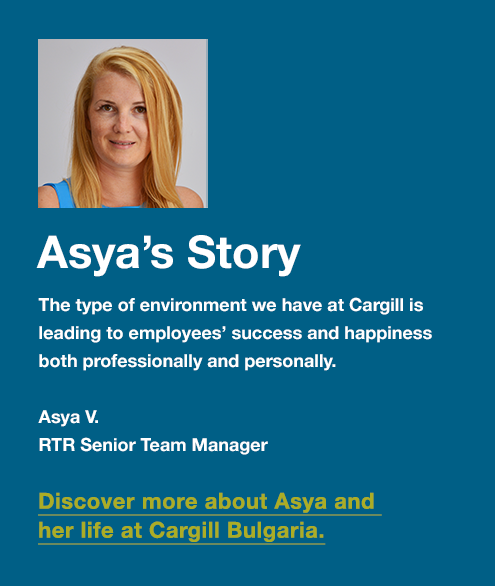 Cargill Bulgaria is getting recognized as a great place to work and a place that does great work. We are proud of our teams for their continued dedication and excellence.
Best Employer, Business Services – Bronze: Recognized by a jury of distinctive professionals for our outstanding efforts.
Exceptional Team's Achievement (CTL/PMO) – Silver: Selected from among over 100 players nationwide in recognition of our hardworking team.
CSR Strategy – Silver: Chosen from a pool of 345 nominations acknowledging the impactful work we do.
Best European Company for Working Women: According to Reboot, our commitment to identifying and growing diverse talents is second to none.
Third-Ranked European Company for Women in Leadership: Recognized by Reboot for being a great place for a leader to grow their career.
Caring for Our Community is Our Nature
Helping communities thrive is one of Cargill's core values. For our Bulgarian offices, this is represented by a strong Corporate Responsibility strategy developed under the Cargill Cares organization. Cargill Cares Bulgaria prioritizes three areas of community involvement: Education, Charity and Environment. With these at the center of our strategy, we have made an impact through several initiatives, including:
Employee-driven donation campaign for advantaged groups

Zero Waste Challenges

Donating fruit and hot beverages to local hospitals

Donating IT equipment to schools and NGOs

Blood Donation Campaigns

Stay Fit Challenge

And many more!