April Li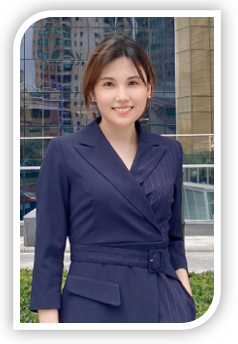 Role: Senior Strategic Customer Book Manager
Department: Trading and Risk Management
Country: China
Tenure: 6 months

Tell us about your role and the value you bring to Trading and Risk Management.
My role in Cargill Metals is a book manager of Volatility, mainly to price and trade options. Trading in Cargill as a volbook manager consist of both proprietary trading and flow-driven trading from other sub-books. In shipping and manufacturing, a lot of embedded options are non-standard ones and cannot be sourced nor can we find a proxy in the market. My role hence defines value of such options, as I need to find proper way to hedge and manage convexity risk aggregately across the BU.
How do you contribute to Cargill's work in nourishing the world?
The world has a long history of demanding optionallity to protect people from uncertainty in doing business. Providing a liquidity in convexity will help different sectors of the steel value chain gain protection at lower cost. By having this kind of protection in Cargill, our customers will have more confidence in maintaining the steadiness of their business when they work with us.
What is it like to work with one of the world's largest commodity trading firms?
I used to be a quant trader in equity for over 4 years. Trading in a commodity firm like Cargill is a whole new experience for me. Cargill has solid research power and strong vertical analysis across every corner inn the value chain. Our research teams are very effective in quantifying almost every factor, fundamentally or non-fundamentally. It is great to see that we're capable to synthesize and leverage different strengths and expertise within the team.
What do you like best about the Cargill culture?
The desk is always noisy – when there's a new headline affecting our industry, everyone is enthusiastic to share their insights and analysis. With these energetic debates, everyone grows sharper in their business acumen and sense. I can also see that cross functional teams cooperate smoothly when we've new opportunities/projects, and I can always find someone who's considered one of the best in industry to consult and bounce off my ideas.
How is Cargill getting you ready to thrive in the future of commodity trading?
Uncompromising business ethics are an integral part of Cargill's values – this is particularly important to what we do!
The metals industry is going through a period of disruptive change. How have you been able to help shape its evolution at Cargill?
China has the biggest demand in ferrous world, with strong infrastructure booming. Mills are trying new ways to manage their risk and amplify their market read. The overall risk management is maturing, and profit generating ability across the industry is evolving. Cargill is a pioneer in providing risk management solutions across the value chain, hence I also consider myself a pioneer to provide proper valuation and risk management planning in Cargill.
Cargill is leading the way for gender inclusion in commodity trading. How has it impacted you personally?
Trading desk culture was typically male dominated in the past, from general industry observation. In China however, women traders in financial world takes up about almost half the professional workforce. Female traders are as effective as male traders – we are dedicated, precise, have strong conviction and assertiveness. I'm happy to see that Cargill metals have a culture to provide equal opportunities to all regardless of gender.
Was there anything which surprised you about the onboarding experience at Cargill?
On the first week of my onboarding in 2021, just after I received internal clearance and authority to trade, I was asked by my manager whether I would like to share my views with the team during the risk call. I felt included as my manager and team values my views, even though I was so new to Cargill. It's also a testament that Cargill metals is a very fast track business, where we can sharpen our skills quickly and our teams are geared for high performance.
Trading and Risk Jobs
View all trading and risk jobs