Inżynier ds. Niezawodności
Job ID 207289
Date posted 06/03/2022
Location : Nowy Sącz, Poland
Chcesz budować lepszą, bardziej zrównoważoną przyszłość i rozwijać karierę? Dołącz do globalnego zespołu firmy Cargill liczącego 155 000 pracowników z zaangażowaniem stosujących bezpieczne, odpowiedzialne i zrównoważone sposoby żywienia świata. Jest to stanowisko w biznesie Food Ingredients and Bio-Industrial firmy Cargill, który zajmuje się przewidywaniem trendów w zakresie smaku, odżywiania i bezpieczeństwa, aby wprowadzać innowacje i dostarczać rozwiązania producentom, detalistom i firmom gastronomicznych.
OPIS STANOWISKA
Inżynier ds. niezawodności wykorzystuje swoją wiedzę techniczną, aby zapewnić ciągłą poprawę niezawodności procesów i zasobów poprzez wykrywanie i eliminację defektów. W tej roli będziesz ustalać właściwą prewencję i budować strategię optymalizacji maszyn, a także wspierać pracowników w rozwiązywaniu bieżących problemów.
Oferta pracy dotyczy naszego zakładu Konspol Holding w Nowym Sączu.
KLUCZOWE ZADANIA
Wdrażanie działań w zakresie doskonalenia niezawodności maszyn i urządzeń

Identyfikowanie i ustalanie priorytetów przeglądów dla maszyn

Rozwój programów i technologii konserwacji predykcyjnej zgodnie z najlepszymi praktykami technicznymi

Przygotowywanie przeglądów technicznych maszyn

Współpraca z powiązanymi obszarami nad nowymi specyfikacjami sprzętu

Wsparcie techniczne pracowników w procesie rozwiązywania problemów związanych z awariami

Optymalizacja stanu krytycznych części zamiennych
KWALIFIKACJE
Minimalne Kwalifikacje
Wykształcenie wyższe techniczne – min. I stopnia (licencjat) lub pokrewne doświadczenie

Bardzo dobra znajomość technicznego jęz. angielskiego – międzynarodowe środowisko pracy oraz dokumentacja techniczna w języku angielskim

Doświadczenie w zarządzaniu projektami

Bardzo dobra znajomość programu MS Excel
Preferowane Kwalifikacje
Wiedza techniczna z zakresu mechaniki i/lub automatyki

Wiedza z zakresu zarządzania procesami utrzymania ruchu

Wiedza praktyczna w zakresie technologii konserwacji predykcyjnej
#LI-BD2
Benefity:
Praca w międzynarodowym środowisku
Ubezpieczenie na życie
Prywatna opieka medyczna
Możliwość dołączenia do Pracowniczego Programu Emerytalnego PPE
Dofinansowanie do posiłków
Nasza Oferta

Zapewniamy dynamiczną pracę w stymulującym, międzynarodowym środowisku, które pozwoli Ci rozwinąć Twoje umiejętności i ukierunkować Twoje talenty. Oferujemy również konkurencyjne wynagrodzenie i benefity w połączeniu z wyjątkowymi możliwościami rozwoju kariery w jednej z największych i najbardziej solidnych firm prywatnych na świecie.

Jesteś zainteresowany? Prześlij nam swoje CV już dziś:  
Śledź nas na LinkedIn: https://www.linkedin.com/company/cargill 
Firma Cargill stara się być pracodawcą integracyjnym. Kliknij tutaj, aby dowiedzieć się więcej https://careers.cargill.com/diversity/
#LI-BD2
---
Linkedin Job Matcher
Find where you fit in at Cargill. Log in to connect your LinkedIn profile and we'll use your skills and experience to search the jobs that might be right for you.
Sustainable
Cocoa
The Cargill Cocoa Promise is committed to securing a thriving cocoa sector for generations.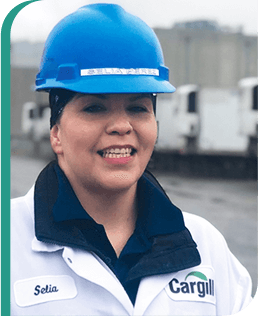 Women in Operations
She saw a need for more women in leadership roles at her facility, so she stepped up to the challenge.
Meet Selia
Life at
Cargill
Discover how you can achieve your higher purpose with a career at Cargill.