Operations Reliability Associate 2023 (Multiple U.S. Locations)
Job ID 257893
Date posted 01/04/2023
Location : Wayzata, Minnesota
Want to build a stronger, more sustainable future and cultivate your career? Join Cargill's global team of 155,000 employees who use new technologies, dynamic insights and over 154 years of experience to connect farmers with markets, customers with ingredients, and people and animals with the food they need to thrive.
Please Note
If you are also interested in an Operations Management Associate role in Grain Handling, please look for job ID: 224304
Across the United States; must be open to relocation.
Potential locations could include: Bloomington IL, Cedar Rapids IA, Fayetteville NC, Gainesville GA, Guntersville AL, Iowa Falls IA, Kansas City MO, Lafayette IN, Sioux City IA, Sidney OH, West Fargo ND, Wichita KS.
Your Role
Connect to meaningful work. Feed the world. Achieve your higher purpose.
What if your ideas could nourish the world? As an associate, we transfer your knowledge and skills into profound experiences that positively impact our global community. From food to transportation, your innovative solutions, collaboration and dedication will evolve industries to take on tomorrow's greatest challenges! And that's just the beginning. Because when your skills meet our unrivaled network and breadth of opportunity, your career is without bounds. Join our community to realize the impact of your work, help people around the world, and connect with something greater.
Operations Reliability Associate Position
Our fast-paced plants are powered by collaboration, passion and a shared commitment to our vision of providing for the world. In Operations, your work will touch countless lives through the families and communities you help feed. This position is a training role that will prepare you to lead plant reliability. You will learn about our operating equipment and maintenance practices, and how to work with the operations team to lead the execution of a published weekly maintenance schedule. You will also work with engineers to perform solutions to improve asset reliability. In this position, you will become a cause analysis leader in order to eliminate defects and future downtime.
During this time, you will get the support and inspiration you need to choose your own future path in developing an exciting career with global impact. With us, your future opportunities are endless. During your time here, the path your training takes may include:
Operations

Environmental, Health & Safety Leadership

Engineering/Maintenance Reliability

Accounting

Continuous Improvement

Human Resources/Talent Management/Employee Relations

And much more based on your areas of interest and/or business needs
Environment
When you join one of our Grain Facilities you will get a little dirty and dusty. That's because these are boots on the ground facilities where you spend 60% of your time outdoors. Here you'll learn elevator operations and eventually lead a small team. You'll feel the wind in your face and sun on your skin from the tops of our silos. It is sometimes challenging work as you will have the possibility of working varying shift hours, 8 to 14-hour shifts, and even 6 to 7-day weeks depending on customer demand. As an industry leader, it's all part of contributing to a successful team that is doing things right, reaching higher, and putting people first. Your work in these facilities will be vital to our mission of nourishing the world.    
Job Locations and Expectations
Plant setting

Occasional weekend and on-call duties
Our Benefits
No matter who you are or where you are, we've crafted our plans and programs to meet your needs! We want to help you take care of what's needed for today and offer protection to help with tomorrow's what-ifs. You'll have access to a wide variety of flexible and inclusive options for your health, financial, and work/life needs to support you and help you thrive. Eligible programs and incentives include:
Paid holidays and floating holidays

Paid time off

Comprehensive health care plans

Short term and long-term incentives

Mental Health and Wellbeing program

Digital Learning Library

Retirement plans

Paid time to participate in volunteer and community outreach opportunities

Tuition reimbursement programs

Relocation benefits for those that qualify
Our Vibrant Community
At Cargill, you will be a part of our vibrant global community with a culture that celebrates diversity. This is a reflection of the clients we serve and generates an intellectually diverse set of employees. Business Resource Groups (BRGs) help us embrace our diversity, make our culture more inclusive and enhance our employees' outstanding talents and perspectives to benefit our organization and employees.
Our U.S. Business Resource Groups include:
Asian Alliance Network, Cargill Young Professionals Network, Cargill Ability Network (iCAN), Cargill Ebony Council, Group Responsible for Orienting and Welcoming (GROW), Hispanic-Latino Council, Cargill Pride Network, Veterans & Military Support Network, and Cargill Women's Network.
Required Qualifications
Currently pursuing or completed one or more of the following:

A Bachelor's or Master's degree completed/to be completed between May 2020 – Summer 2023 or
An Associate's Degree + two years relevant work experience (as defined by operational, mechanical, and/or leadership experience) or
Achieved E-4 rank (or higher) in a military background or

Four years relevant experience (as defined by operational, mechanical, and/or leadership experience)

Right to work in the U.S. that is not based solely on possession of a student visa or a visa sponsored by a third-party employer

Ability to work effectively with individuals from a diverse set of backgrounds and cultures

Willing and able to relocate

Ability to contribute, both as part of a team and individually

Willingness to work 1st, 2nd, and 3rd shifts and weekends should the occasional need arise
Preferred Qualifications
Pursuing an agriculture, business-related degree, or engineering degree (including but not limited to Ag-Economics, Ag-Business, Ag-Education, Agronomy, Feed Science, Grain Science, Operations Management, Ag-Systems Management, Ag-Engineering, Supply Chain, Mechanized Systems Management, Industrial Engineering, Industrial Distribution). 

Knowledge and experience in the following: leading technical maintenance processes, hydraulics, pneumatics, motors, engines, rotating assets, electrical systems, preventative and predictive maintenance practices.
Cargill highly encourages vaccinations but does not mandate at this time.  Upon hire, you will be asked to provide your vaccination status, and if unvaccinated or if you choose not to disclose, you would be expected to follow Cargill's safety protocols for unvaccinated employees (i.e., mask mandates, and social distancing).
Equal Opportunity Employer, including Disability/Vet.
---
Linkedin Job Matcher
Find where you fit in at Cargill. Log in to connect your LinkedIn profile and we'll use your skills and experience to search the jobs that might be right for you.
Sustainable
Cocoa
The Cargill Cocoa Promise is committed to securing a thriving cocoa sector for generations.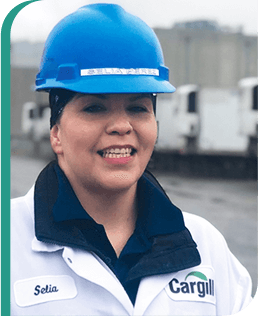 Women in Operations
She saw a need for more women in leadership roles at her facility, so she stepped up to the challenge.
Meet Selia
Life at
Cargill
Discover how you can achieve your higher purpose with a career at Cargill.