Job ID 131840
Date posted 11/30/2021
Location : Sas van Gent, Netherlands
Op de productielocatie van Cargill in Sas van Gent verwerken we maïs en tarwe tot zetmeel, eiwitten, glucose en alcohol. Deze grondstoffen worden daarna verder verwerkt in producten voor de voedingsindustrie zoals snoep, zuivel, koekjes, soepen, dranken en nog veel meer. Daarnaast worden onze grondstoffen gebruikt in diervoeding, cosmetica, farmaceutische producten en in papier en karton. Voor deze locatie zijn wij opzoek naar een:
Werkvoorbereider E&I
In de productieafdelingen worden onderhoud-, revisie- en inspectiewerkzaamheden en onderhoudsprojecten uitgevoerd aan een grote diversiteit van equipment, apparatuur en installaties. De onderhoud-, revisie- en inspectiewerkzaamheden worden voor zover mogelijk uitgevoerd in dagdienst. Er wordt een 24-uur service gewaarborgd, waarbij indien noodzakelijk ook werkzaamheden buiten dagdienst voorbereid en gepland (scheduled) worden, maintenance assistentie wordt verleend bij o.a. shutdowns en via een consignatiesysteem. 

Alle onderhoud-, revisie- en inspectiewerkzaamheden worden aangestuurd d.m.v. werkopdrachten die in een onderhoudsbeheersysteem (CMMS) gegenereerd en geadministreerd worden. Alle werkzaamheden worden aan- en afgemeld bij de maintenance area supervisor van de afdeling. Meetgegevens, bijzonderheden, gewerkte uren, verbruikte materialen, aantal resources, middelen etc. worden geadministreerd in CMMS. Het gebruik van de juiste onderhoudsmethodieken, het correct en volledig voorbereiden van de werkzaamheden, en het efficiënt en effectief uitvoeren van de werkopdrachten zijn essentieel om de geplande stilstand van de productie-eenheden tot een min. te beperken, en de (voedsel-)veilig-, betrouwbaar- en beschikbaarheid van de productie-units max. te waarborgen. 

Door het verminderen van het aantal niet-voorbereide en geplande onderhoudsinterventies en het verbeteren van de "Hands-On-Tool Time" van de in- en externe onderhoudsmedewerkers, dragen de werkzaamheden van de werkvoorbereider bij aan het verhogen van de plant betrouwbaar-, de productiebeschikbaarheid en de profitabiliteit.  

Werkzaamheden
Werkvoorbereiding proces van alle onderhoud-, revisie- en inspectiewerkzaamheden
Opzetten, bijhouden en dagelijks evalueren van een zgn. Approved for Planning Backlog (APLAN)
Identificeren en evt. initiëren van verbeteringen om de werkprocessen en werkwijzen te optimaliseren
Verlenen van technische ondersteuning en support
Bijhouden van de equipment-, installatie- en apparatuur gegevens in het onderhoudsbeheersysteem (Maximo), en overige administratie en documentatiesystemen m.b.t. alle uitgevoerde maintenanceactiviteiten tezamen met de afdelingen uitvoering en reliability engineering
Doen van voorstellen aan management en supervisie t.a.v. optimalisatie van bestaande en nieuwe onderhoudscontracten
Mede toezien op en naleven van bedrijf- en veiligheid en voedselveiligheidsvoorschriften; signaleren van onvolkomenheden en doen van voorstellen tot verbetering
Wie zoeken wij?
Jij herkent jezelf in de volgende steekwoorden: innovatief, teamleader-teamworker, flexibel, ondernemend, bereidheid om goede samenwerking op te bouwen 
Daarnaast heb je ruime kennis van proactieve onderhoudsmethodieken 
Voor jou is een breed werkgebied overzien geen probleem en daarbij kan je goed organiseren
Je bent goed in je communicatie en deelt makkelijk kennis met anderen. 
Je hebt een MTS/BOL4 in elektrotechniek of gelijkwaardig middels ervaring en vakopleidingen
Minimaal 5 jaar ervaring als allround monteur elektrotechniek en instrumentatie
Goede beheersing Nederlandse en Engelse taal 
Kennis van voedselveiligheidsprocedures en richtlijnen en Arbo voorschriften
Kennis van verschillende softwareapplicaties
Wij bieden
Wij bieden je uitdagend en verantwoordelijk werk waarin je je talenten volledig tot hun recht kunt laten komen en ontplooien. Hierbij heb je een basissalaris van tussen de €3478,- en €4329,- euro bruto per maand voor een werkweek van gemiddeld 40 uur (dat wordt verkort tot 36 uur door toekenning van 24 ATV dagen), een 13de maand en 8% vakantiegeld. Daarnaast ontvang je minimaal 25 vakantiedagen en tevens de mogelijkheid om dagen bij te kopen. Interesse? Reageer dan via de website en wij nemen zo snel mogelijk contact met je op.
Acquisitie naar aanleiding van deze advertentie wordt niet op prijs gesteld.
---
Linkedin Job Matcher
Find where you fit in at Cargill. Log in to connect your LinkedIn profile and we'll use your skills and experience to search the jobs that might be right for you.
Sustainable
Cocoa
The Cargill Cocoa Promise is committed to securing a thriving cocoa sector for generations.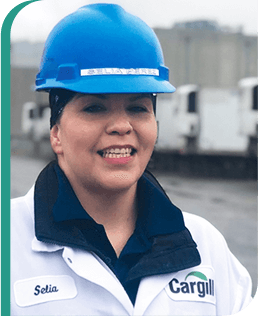 Women in Operations
She saw a need for more women in leadership roles at her facility, so she stepped up to the challenge.
Meet Selia
Life at
Cargill
Discover how you can achieve your higher purpose with a career at Cargill.