Job ID 198432
Date posted 04/04/2022
Location : Bergen op Zoom, Netherlands
Werken bij Cargill is een kans om jezelf te ontwikkelen en te groeien! Op de productielocatie van Cargill in Bergen op Zoom verwerken we tarwe tot zetmeel, glucose en ethanol. Deze grondstoffen worden daarna verder verwerkt in producten voor de voedingsindustrie zoals snoep, zuivel, koekjes, soepen, dranken en nog veel meer. Daarnaast worden onze grondstoffen gebruikt in diervoeding, cosmetica, farmaceutische producten en in papier en karton. Voor deze locatie zijn wij voor  op zoek naar een enthousiaste en gemotiveerde:
Field operator raffinaderij
Als fieldoperator bestuur je samen met de screenoperator en collega fieldoperators de volledige afdeling. De werkzaamheden vinden plaats in de procesgebieden: raffinaderij, bio-ethanol en utilities.
Deze functie is een uitstekend startpunt naar de functie van Screen Operator, Allround Operator en eventueel op termijn Hoofd Operator. De proces technische complexiteit evenals de brede scope van afdelingen vormen hierbij een belangrijke uitdaging. Het betreft een fulltime functie in 5-ploegendienst
Werkzaamheden
Als field operator raffinaderij houd je je bezig met het controleren en bijsturen in afstemming met de screen operator van processen (incl. raffinaderij utilities) t.b.v. het produceren van glucose-, fructosestropen en ethanol, zodanig dat producten van vereiste kwaliteit en kwantiteit en conform business doeleinden (zoals veiligheidseisen, productiekosten en -schema) ter beschikking komen. Hierbij moet je onder andere denken aan:
Bedienen, controleren en bijsturen van de installaties aan de hand van procesvoorschriften en recepturen;
Het bewaken van de kwaliteit van het eindproduct, hiertoe nemen van monsters en uitvoeren van standaardbepalingen zoals o.a. DE, suikerpatroon, zuurgraad, I2, droge stof, FX-gehalte, vocht, bio-ethanolgehalte
Het uitvoeren van 1e lijns onderhoudswerkzaamheden en initiëren van correctief en preventief onderhoud - melden van storingen in wachtboek en melden in Maximo
Opstarten, bedienen, controleren en stoppen van o.a. ketelhuisinstallaties, koeltorens, e.d. ter plaatse in afstemming met de screen operator
Uitvoeren van dagelijks beheer en gebruikersonderhoud zoals uitvoeren van visuele controles technische staat.
Wat breng je mee ?
Jij hebt een diploma op MBO3 of MBO4 niveau in de procestechniek;
Je bent in bezit van VCA VOL en hebt bij voorkeur een BHV certificaat en een VOP laag- en/of middenspanning;
Je hebt kennis van de afdelingsprocessen en kennis van randsystemen zoals stoom, waterstromen, lucht, enzymen, chemicaliën, transport van vloeistoffen en gassen;
Tenslotte heb je kennis van EHS, ISO, HACCP, GMP en noodprocedures.
Wij bieden
Wij bieden een dynamische en prettige werkomgeving met veel ruimte voor het nemen van initiatief. Ben jij ambitieus en wil je graag doorgroeien? Cargill biedt uitstekende opleidingsmogelijkheden en secundaire voorwaarden. Naast een marktconform salaris (vanaf € 2929 bruto per maand) ontvang je een 13de maand, 8% vakantiegeld en 30% ploegentoeslag voor het lopen in een 5 ploegendienstrooster. Tevens hebben wij een goede reiskostenvergoeding en kennen we een uitstekende pensioenregeling. En uiteraard niet te vergeten de gezelligheid van je nieuwe collega's.
---
Linkedin Job Matcher
Find where you fit in at Cargill. Log in to connect your LinkedIn profile and we'll use your skills and experience to search the jobs that might be right for you.
Sustainable
Cocoa
The Cargill Cocoa Promise is committed to securing a thriving cocoa sector for generations.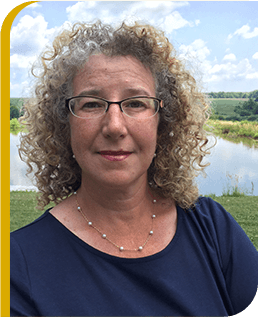 Women in Operations
She discovered there are endless opportunities to take your career in new directions through a variety of roles and business units.
Meet Elizabeth
Life at
Cargill
Discover how you can achieve your higher purpose with a career at Cargill.